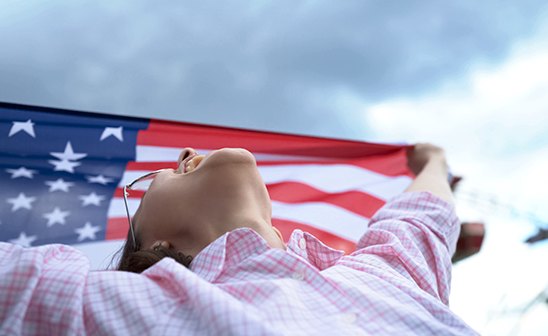 Citizenship & Naturalization
The difference between Citizenship & Naturalization
Naturalization is the path to obtaining citizenship. Once you receive your citizenship through this path, you are given a U.S. passport and you become a naturalized U.S. citizen. You are now viewed the same as those who claim U.S. citizenship through birth in the United States.
What's necessary to obtain U.S. Citizenship?
Eligibility / Requirements include:
Permanent legal resident – Establish yourself as a permanent legal resident in the United States for five years.
Marriage – If you are married to a U.S. citizen, you can apply for naturalization after three years of permanent residency.
Physically Present – An applicant for naturalization is generally required to have been physically present in the United States for at least half the time for which his or her continuous residence is required.
Evidence of good moral character – A prospective applicant must show evidence pertaining to good moral character for at least 5 years before filing their naturalization application.
Ability to read and write basic English – A critical requirement for becoming a U.S. citizen is that you are able to read, speak, and write basic English.
Demonstrate knowledge and attachment to the U.S. Constitution – An applicant for naturalization must show that he/she has been and continues to be a person attached to the principles of the Constitution of the United States and well disposed to the good order and happiness of the United States during the statutorily prescribed period.
Demonstrate knowledge of U.S. history and government – The civics test is an oral test and the USCIS Officer will ask the applicant up to 10 of the 100 civics questions. An applicant must answer 6 out of 10 questions correctly to pass the civics portion of the naturalization test.
The Application Process
The naturalization application is filed by filling out the N-400 form. After filing your application, you will receive a receipt notice that your application was received.
You will also receive a fingerprinting notice (called "a biometrics notice") a few weeks after you file the application. Taking the biometrics are an integral part of the naturalization process. When you attend the biometrics appointment, you need to have the appointment notice and a valid form of photo ID.
After the biometrics are taken, a naturalization interview with a USCIS officer will be scheduled. This meeting will test your basic understanding of United States history, your competence of English, as well as your background and commitment to the United States.
A few factors that can complicate the naturalization process are criminal records, prior document fraud, expired visas, or involvement in the deportation process. If any of these factors are present, the involvement of a competent immigration attorney is critical to help advise and guide you through the process.
After the interview, you will be scheduled for an oath ceremony, where you will take a U.S. Oath of Allegiance to demonstrate your commitment to being an American citizen. Once the oath ceremony is complete, you can call yourself a U.S. citizen!
For help please contact us at – 415.895.0661.