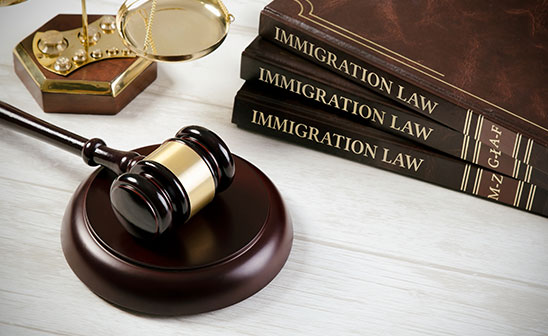 Deportation and removal from the United States occurs when the United States government orders a person to leave the country. Depending on the reason you were deported, you may have to wait several years before trying to return – up to 20 years is possible. During the designated time frame you must remain outside of the country.
Many people do not realize even a minor violation can be the cause of a lot of grief. Even if the infraction occurred many years ago, it can still serve as a basis for deportation. However, there are several mechanisms in the law that allow for deportation proceedings to be cancelled and for the person to obtain lawful status to remain in the United States.
At Haq Law, we work tirelessly on behalf of those seeking to avoid deportation and remain lawfully in the United States. Areas in which we can assist those facing deportation include:
Applications for Permanent Residency / Adjustment of Status (AOS): This procedure allows an eligible applicant to become a lawful permanent resident of the United States without having to go abroad and apply for an immigrant visa. Typically, green card applications are filed before someone is placed in removal proceedings. On occasion, this can be used as a defense to deportation. Commonly, this is on a family-based petition, but sometimes it can be based on an approved employment-based petition.
Renewal of Form I-751 Removal of Conditional Residence: You and your spouse must apply simultaneously to remove the conditions on your permanent residence by filing Form I-751. You should apply during the 90 days before your second anniversary as a conditional resident. The expiration date on your green card is also the date of your second anniversary as a conditional resident. If you fail to meet this deadline, you may be subject to removal proceedings. The I-751 petition can usually be renewed as a defense in court.
Criminal Waivers: Cancellation of Removal for Legal Permanent Residents is available to some permanent residents facing deportation because of an unlawful record. Non-permanent residents with criminal records may seek admission to the United States as well. One means of doing this is to apply for a 212(h) waiver, which asks an immigration judge to allow admission into the country despite a crime that would otherwise bar entry.
Noncriminal Waivers: In some instances, you may be barred from obtaining a visa or permanent residency based on a non-criminal activity, such as, lying to obtain an immigration benefit, or willfully misrepresenting a material fact while entering the United States. In certain instances, such violations may be waived.
Asylum, Withholding of Removal and Relief under the Convention Against Torture: Individuals may be eligible to seek asylum and prevent being removed to their country of origin, as well as other relief under the Convention against Torture (CAT), in deportation proceedings. Applicants must show that they have been persecuted based on race, religion, nationality, ethnicity, affiliation with a particular social group, or political opinion, or show that their fear of future persecution on those grounds is well-founded.
U visas: This United States nonimmigrant visa is set-aside for those victims of crimes who are willing to aid the government in the investigation of certain criminal activities. It permits these people to enter, or remain in the country, when they may not otherwise be able to do so. In some cases, people in deportation proceedings might be able to seek U-visas if they are eligible.
DACA: Deferred Action for Childhood Arrivals (DACA) is an American immigration policy. It allows some individuals who were brought to the United States illegally as children to receive a renewable two-year period of deferred action from deportation.
TPS and NACARA: Immigrants from some countries may apply for Temporary Protected Status (TPS). Qualified individuals come from a home country that is not safe or unable to handle the return of its nationals. Individuals from countries who entered the United States before certain dates and applied for asylum (or for certain benefits) may also be eligible for relief under the Nicaraguan Adjustment and Central American Relief Act or NACARA. Eligibility under these acts can serve as a defense to deportation.
VAWA Cancellation of Removal: The Violence Against Women Act
provides for special rules for cancellation of removal for non-lawful permanent resident (LPR) spouses, or children of United States citizens (USCs), or LPRs who were subject to abuse, or extreme cruelty by the USC or LPR spouse or parent. These applications can serve as a defense to deportation.
Non-Legal Permanent Resident Cancellation of Removal: Cancellation of removal can be applied for under section 240A(b) of the Immigration and Nationality Act (INA) for individuals who are not green card holders and are placed in removal proceedings. Here are the requirements which must be established to cancel your removal:

You have been living (continuously physically present) in the United States for at least ten years.
Your being removed (deported) from the United States would cause "exceptional and extremely unusual hardship" to your qualifying relative(s) who are citizens or lawful permanent residents (LPRs).
You can show that you have "good moral character."
You have not been convicted of certain crimes or violated certain laws.
Voluntary Departure: This procedure allows you to leave the United States within a certain time period on your own accord, instead of under a removal order. This may be requested from ICE (prior to court proceedings), or from the Immigration Judge (at the beginning or end of removal proceedings.)
Are you and your loved ones scared because you have received a deportation notice that is intimidating and endangering the life you have created here in the United States?
If this sounds familiar, we are here to assist you. At Haq Law, we recognize the critical skills needed to fight deportation. 
For help please contact us at – 415.895.0661.